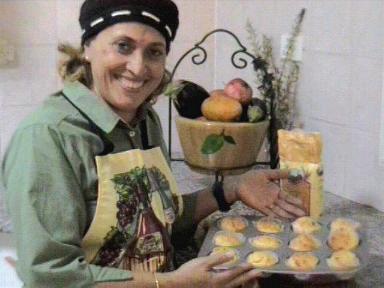 Shoshana and her famous muffins
Epicure Kosher Catering
Wholesome Israeli home cooking
Would you like to send a gift platter to a special someone in Israel?
Are you planning a simcha, event or simply a dinner with friends?
Are your Fridays so hectic that you don't have time to cook?
Epicure Kosher Catering brings you delicious kosher homecooked catering with an emphasis on wholefoods and natural ingredients. Epicure is certified kosher dairy mehadrin by the Modi'in Rabbinate.
Israeli-born Shoshana spent many years working at the Royal Hungarian restaurant in Miami, a business her husband's family has operated for half a century. Returning to Israel, she now works as a caterer in the new town of Modi'in in central Israel.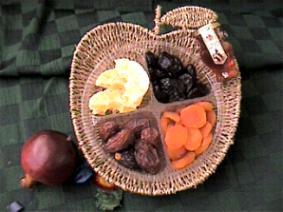 Fruit and honey basket
You don't have to wait for a simcha or special occasion, though. Shoshana also makes lovely take away meals and platters to order.
Order now for Sukkot!
Contact Shoshana

Check out Shoshana's gift baskets!

Check out Shoshana's Catering



---
Copyright 2003 by Leiah Elbaum. Text and illustrations on this page are by Leiah Elbaum. Last updated 7 October 2003.