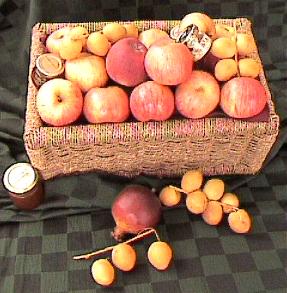 Rosh Hashana fruit basket with honey
Have a wholesome Sukkot with Epicure Catering!
Treat someone in Israel you'd like to treat to some yummy Israeli home cooking.
Epciure Catering, by Modiin's own Shoshana Weiss, is now offering a selection of gift baskets and platters including quiches and wholegrain challot - delicious whole food choices to serve in your sukkah. A perfect yom tov gift for relatives, friends or soldiers.
Certified kosher dairy mehadrin by Rabbanut Modi'in.
Sample Gift Baskets:
Shiv'at Haminim - featuring the seven special biblical species of Israel: olive oil, fresh and/or dried figs and dates, wine, 7 grain crackers, pomegranates and a honey cake.
Shabbat basket - including wine, Shoshana's special challah, gefilte fish, cake, a box of tea, Turkish coffee and chocolate.
Milk and Muffins - Shoshana's homemade muffins and chocolate chip cookies plus a jar of honey or a candle.
Shana Tova - Have a happy new year with this basket of apples, honey and dried fruit
Rosh Hashana - assorted dried fruit and Israeli honey - everything you need for a sweet new year!
Soldier's care package - A selection of prepackaged food includes potato chips/crisps, 2 packs of gum, Corny energy bars, chocolates, nuts, tuna and crackers.
After Dinner - includes tea, Turkish coffee and assorted fine chocolate.
Quiches:
Tomato, basil and olive oil
Onion and mushroom
Zucchini
Greek-style with olives
Sweet onion and roasted red peppers
Give your loved one a taste of the good earth this Sukkot with Epicure Kosher Catering by Shoshana Weiss.
Epicure Kosher Catering by Shoshana Weiss
Tel.: 052-595-577

---
Return to home
Copyright 2003 by Leiah Elbaum. Text and illustrations on this page are by Leiah Elbaum. Last updated 7 October 2003.