Shoshana's Catering
Delicious homecooking for your event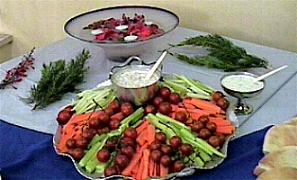 Crudite
Not long after we moved to Modi'in a friend of ours announced his engagement. We wanted to host sheva brakhot for him. We had just moved and hadn't even have time to furnish our home properly - we hadn't yet purchased an oven or a table and chairs.
Shoshana Weiss of Epicure Catering came to our rescue. Not only did she provide a delicious, moderately priced, Mehadrin dairy meal, but she arranged for us to hire tables and chairs, set up a beautifully presented buffet and, when some of our minyan cancelled, rounded up her husband and her shul's rabbi to complete the 10! Now that is what you call service. And all with a warm smile.
You don't have to wait for a simha though, Shoshana also makes lovely shabbat take away meals and platters to order. Her unique wholegrain cookies, cakes and muffins will add a special touch to any kiddush or party. She specialises in dairy, vegetarian and low fat meals. Give her a ring at 052-595 577.
Contact Shoshana

---
Return to home
Copyright 2003 by Leiah Elbaum. Text and illustrations on this page are by Leiah Elbaum. Last updated 8 October 2003.